How to send Bitcoin between crypto wallets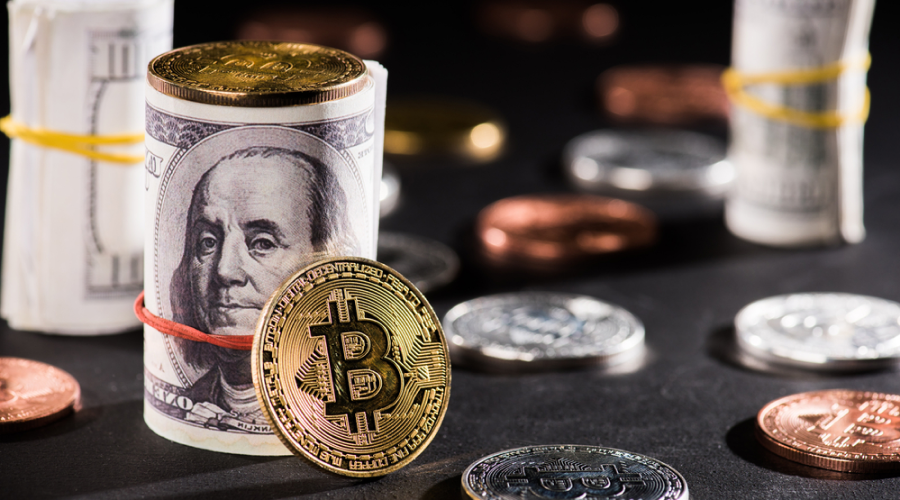 Dealing with cryptocurrencies is one of the few types of trading that takes place exclusively in cyberspace. You buy coins on online exchanges, store them in virtual wallets, and transfer them through digital transactions. Therefore, it is quite logical for anyone interested in cryptocurrencies to be able to send them from one wallet to another, regardless of whether both wallets belong to the same or different persons. This article will help you better understand the specifics of sending cryptocurrencies, focusing on their most popular type, namely Bitcoin.
How to send Bitcoin: the essentials
Before talking about the procedure that cryptocurrency holders go through when sending Bitcoins, it is first necessary to shed light on a number of aspects related to this process that cryptocurrency owners need to know. For example, it is important to determine for what reasons a person may need to send crypto coins from one wallet to another and how long does Bitcoin take to send. Therefore, before a detailed description of the sending process itself, it will be advisable to briefly focus on these issues.
Why may you need to send Bitcoins?
The necessity to transfer crypto coins between wallets can emerge due to the most various situations. It is quite obvious that, in many of them, a person sends cryptocurrencies to other people as part of their sale or purchase or as payment for goods and services. At the same time, situations can also arise when Bitcoin holders want to transfer coins between their own wallets. For example, such a need may arise if the cryptocurrency holder wants to transfer them from one exchange to another. Also, sending operations are used to transfer assets between desktop and mobile wallets.
Thus, any Bitcoin transfer between virtual wallets is related to sending procedures. Therefore, cryptocurrency holders should understand the features and algorithms of these processes. At the same time, another important issue that may be of interest to people involved in transferring cryptocurrencies is Bitcoin transaction time. It will be discussed in the next section.
Bitcoin confirmation time and expectation periods
One specific peculiarity of crypto transactions is the fact that all of them must go through a set of confirmation procedures to eliminate the possibility of fraud or any other malevolent actions. Therefore, when analyzing how long does it take to buy Bitcoin or send this type of currency between the wallets, one should primarily talk about the time spent on the transaction's confirmation.
In turn, this time largely depends on the volume of currency being sent. The more cryptocurrencies involved in the transaction, the more stages of verification by miners it goes through. Naturally, the time for the transfer of large and small volumes of Bitcoins can differ significantly.
That being said, on average, sending Bitcoins between the wallets usually takes up to 10 minutes. However, if large sums are involved, this period may extend up to an hour or more. In any case, you should not start panicking if a lot of time has passed and the crypto you sent has not yet arrived at its destination point. Crypto transferring is a complicated procedure, and there could be many reasons for postponing. Besides, regardless of the situation, you can always appeal to the support services of the platforms you utilize and receive their guidelines for solving the situation you got into.
How to send Bitcoin to someone: a step-by-step guide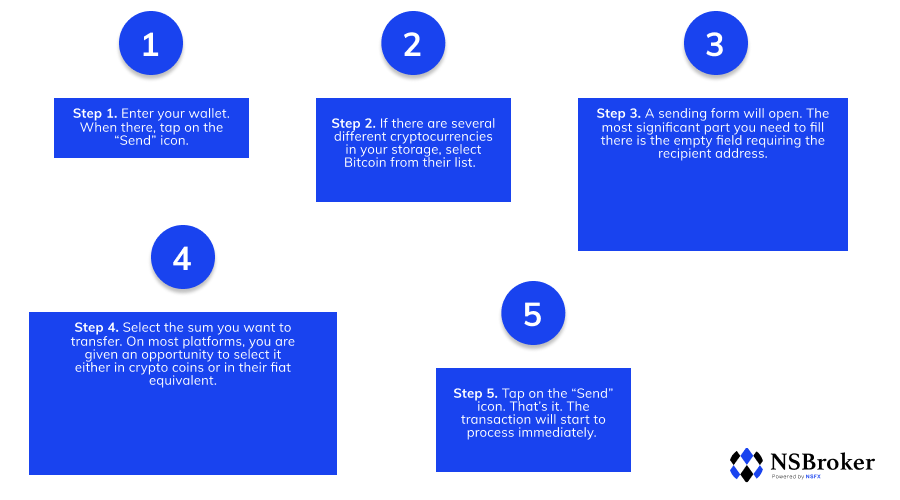 Now that you are acquainted with the information provided above, it is finally time for you to learn the precise guide on sending Bitcoins. This process can be divided into a set of distinctive steps.
Step 1. Enter your wallet. When there, tap on the "Send" icon.
Step 2. If there are several different cryptocurrencies in your storage, select Bitcoin from their list.
Step 3. A sending form will open. The most significant part you need to fill there is the empty field requiring the recipient address. This address can have one of two possible forms: a list of numbers and letters or a QR code. If you have a QR code, scan it. If the address at your disposal has the form of symbols, copy and paste it into the recipient field.
Step 4. Select the sum you want to transfer. On most platforms, you are given an opportunity to select it either in crypto coins or in their fiat equivalent. Therefore, when choosing how much currency to send, you need to double-check whether you are sending Bitcoins or conventional currencies. There is a huge difference between one Bitcoin and one USD, and, believe us, you don't want to make the mistake of sending one of them instead of the other.
Step 5.Tap on the "Send" icon. That's it. The transaction will start to process immediately.
Bottom line
Knowing how to send Bitcoins is essential for you if you want to deal with this type of cryptocurrency. You may need to send Bitcoins in a variety of situations, from paying for goods and services to transferring the assets between your wallets. Hopefully, this brief guide helped you better understand the peculiarities of this procedure, as well as different aspects indirectly related to it.