Transfer Bitcoin from Coinbase to Kraken by sticking to this list of guidelines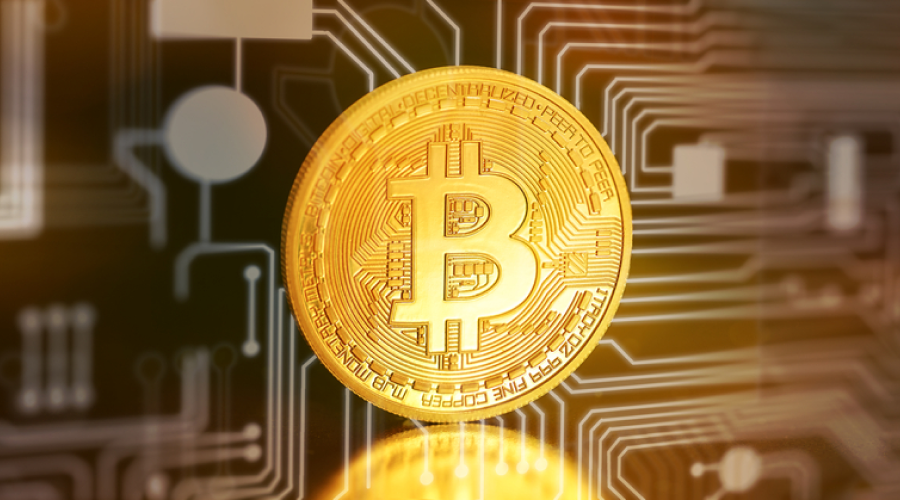 Crypto trading is a complex and multicomponent system, one of the defining features of which is the presence of many different exchange platforms. People who are just beginning their journey in this field tend to first turn their attention to those of them that have a simpler interface, trading rules, and, in general, a considerably more user-friendly experience.
For this reason, many newcomers to the field begin their Bitcoin trading journey with Coinbase, an exchange commonly recognized for being user-friendly in terms of its interface. In turn, with experience, they can begin to logically seek to move to other exchange platforms, such as Kraken. In this case, they are faced with the task of transferring their crypto coins from one platform to another. Let's take a look at the basic steps a person needs to take to transfer Bitcoins from Coinbase to Kraken .
How to transfer Bitcoin from Coinbase to Kraken: the essentials
Before reviewing the actions required to successfully move your assets between the platforms, it is necessary to mention that you would definitely need this manual due to an apparent reason: despite all its benefits, Kraken has one significant shortcoming in the form of its complicated user interface. Given this fact, it is difficult for new traders to fully experience the pros of this exchange that include a wide variety of users and beneficial transfer fees. Therefore, gaining a general understanding of the processes necessary to conduct the operation under question is definitely an essential step when switching to this exchange.
Transfer coin easily with these five steps
That being said, let's look at the main steps you need to undertake to conduct a Coinbase to Kraken transaction.
Step 1. Enter Coinbase, go to your account, and select the option "Accounts" (if you're using mobile version, it is situated close to the "Home Menu" option).


Step 2. In the list that will be available to you after this step, choose the type and amount of coins you'd like to send from your Coinbase page. Tap on the "Send" button. The window with a transfer menu will open.


Step 3. Enter Kraken. Go to the "Funding" slot . Select the type of crypto coins that is to be deposited (in this case, Bitcoins). Then tap on the "Generate New Address" option. Once generated, copy it.


Step 4. Go back to Coinbase and put the info copied during the previous step in the recipient slot of the transfer menu in Coinbase. Put in the other details of the operation the form will require.


Step 5. Double-check all your choices and, if everything is alright, select the "Continue" option. This is it. The transfer from Coinbase to Kraken is confirmed.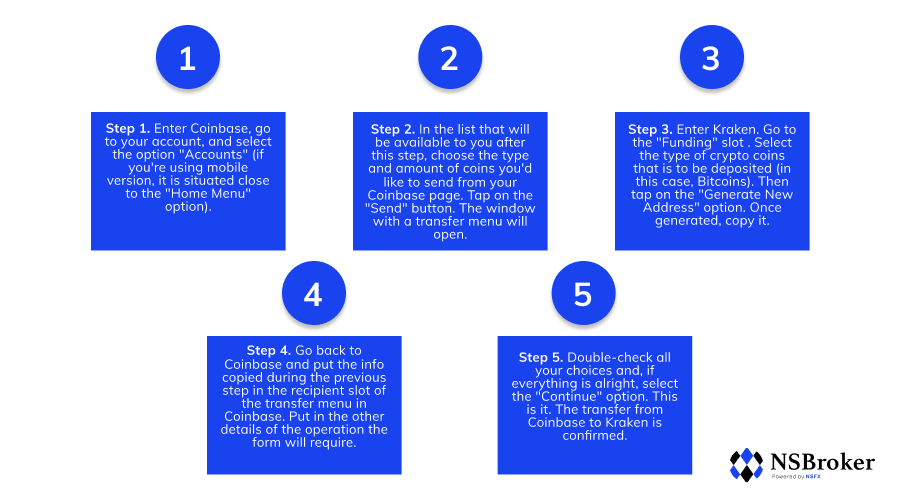 How much time does transferring your coins take?
Undoubtedly, one of the most important attributes of a favorable transaction is its speed. The phrase "time is money" is better suited for trading than for most other areas. Therefore, the faster the transactions are carried out, the better it is for the trader. So how long does it actually take to transfer Bitcoin from Coinbase to Kraken?
Well, you shouldn't worry: in the predominant number of cases, the transaction takes literally several minutes (2-3, if we want to be more precise). Besides, as you can see from the aforementioned detailed list of actions required to conduct it, the preparation for the transfer is also unlikely to take more than several minutes. Therefore, if conducted correctly, the transaction under discussion is both quick and easy.
However, keep in mind that every general rule has exceptions. The time required for transactions in crypto trading can be influenced by a set of factors, including the speed of networks and miners' verification. Therefore, in some cases, it is possible for these operations to take hours instead of minutes. Again, it is not a general rule, and, in most situations, you are likely to transfer Bitcoins from Coinbase really quickly. Nevertheless, if the operation takes considerably more time, don't panic. It could still be within the limits of the norm.
Bottom line
Transferring your coins between the platforms is a procedure you are unlikely to avoid if you're planning to make crypto trading a part of your life. Some exchanges are better for newcomers; others are more suitable for you if you're getting more advanced in your trading. In any case, it is advisable for you to know the general patterns and algorithms to which you need to stick to organize such transactions. Remember that they differ depending on the particular exchanges between which the transactions are conducted, although their general patterns are mostly similar. Hopefully, the information provided in this article helped you enhance your knowledge on how to transfer Bitcoin from Coinbase to another exchange.