One Minute Forex Strategy Guide for Traders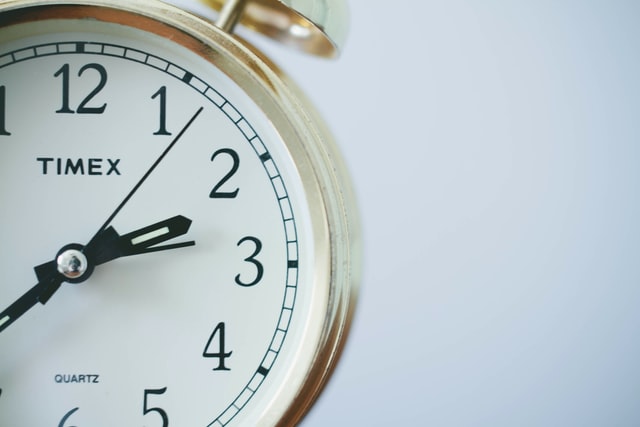 When most newbie forex traders join the industry, they're immediately drawn to the Minute 1 timeframe. It's short and you can make your money within a few minutes. The fast price movements are also fascinating to watch. And the thrill of just making or losing money within a few minutes is just so exciting. Every other timeframe seems boring and sometimes even 10 minutes feels too long. They don't have any 1-minute forex strategy they're using.
And once the excitement fades because of how fast they're losing money, reality sinks. They don't know what they're doing. But through this article, you'll learn one of the many day trading scalping strategies you can use on minute 1 timeframe.
The 1 Minute Forex Scalping Strategy
There are so many strategies published out there. Some have exotic names and complicated guidelines but the results are terrible. And some are quite simple it's hard to imagine they can work.
As a scalper, you need to be conversant with indicators because they are more effective in these timeframes than news. Additionally, if you're good with fundamentals you can make some good money as a news scalper.
This simple scalping strategy requires EMAs 50&100 and stochastic 5,3,3. The stochastic shows you when the market is overbought or oversold, therefore, you can replace it with the RSI.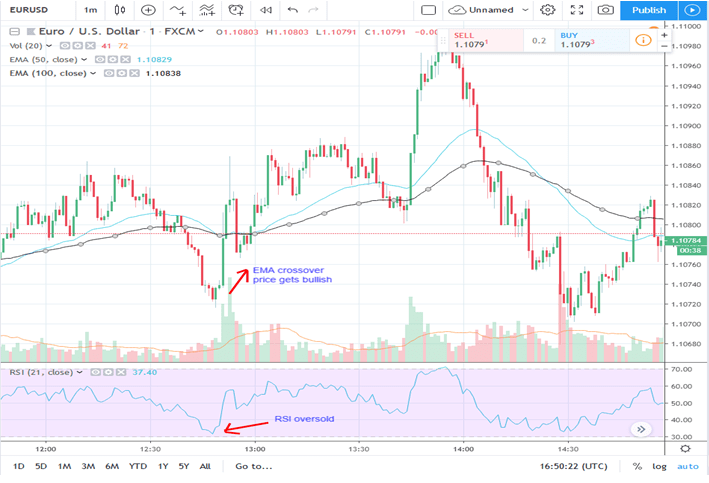 The EMAs react to recent price movements faster. So focus more on crossovers when dealing with them.
RSI over 70 shows the market is overbought and prices could reverse anytime. And below 30, the market is oversold and the market is about to be bullish.
As for EMAs, EMA 100 focuses on long-term price movements and EMA 50 for the middle term. For short term strategy, we'll use EMA 8 & 21.
Therefore, on one tab, let the settings be EMA 50&100. And on the other, EMA 8&21. You want to follow the direction of the trend that's why we have the EMAs 50&100. Wait for them to crossover. And when it's happened, check on your other tab for 8&21 for any movements.
The short term movements of EMA 8&21 will give you a good entry price as well as exit.
If EMA 50&100 have crossed over, wait for any crossovers on EMA 8&21. Once that happens, you can enter a position. Check to see any signs of market overbought or oversold with the RSI.
You won't always have all three conditions met. But when they do, that's a high probability setup. You may need to decide the two parameters that will at least be met before you enter a trade.
The 1 Minute Forex Strategy In Sell Order
Below we'll take a sell order as an example.
The EMA 50 should cross over the EMA 100 in a downward direction.
Next, check on your EMA 8&21 chart and check for any crossovers. That too, the EMA 8 crossing the EMA 21 in a downward trend. If it has been crossed over, check the RSI. If it shows overbought and the trend about to change, open a sell position.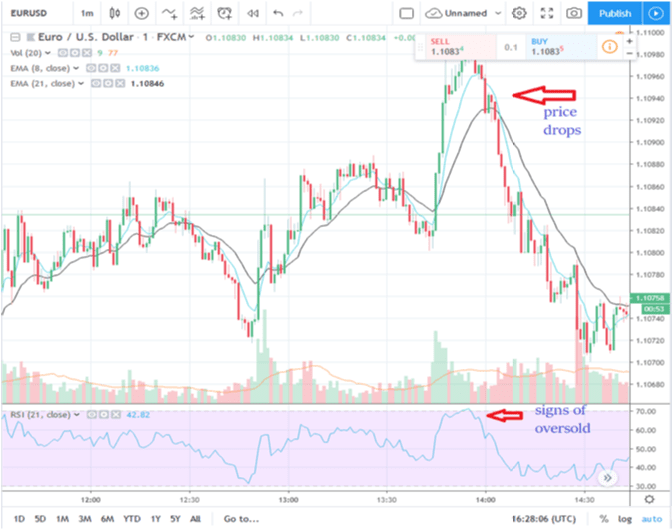 Set your stop loss a few pips above the EMA 8&21 crossover and set your TP 10-20 pips from your entry price. Remember you're scalping so all this must be done fast. Once the parameters are met, enter the trade immediately. Precision is everything to a scalper.
You won't get many trades if you decide to wait for all the parameters to be met. But they'll be high probability. If you want more trades, you could just enter once both EMAs have crossed over.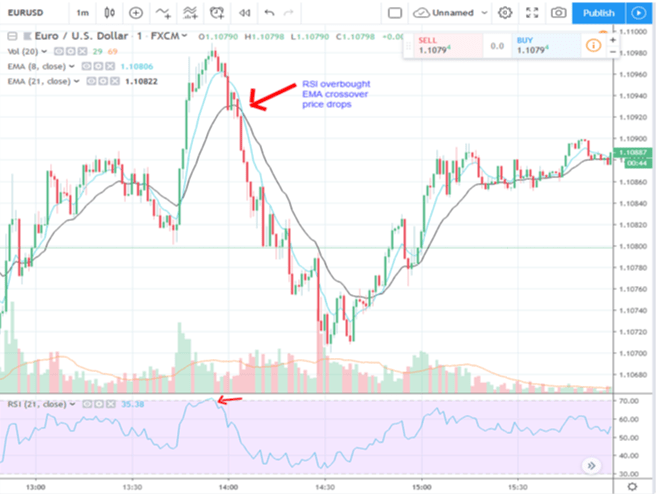 How To Be Profitable Using The Scalping Currency Trading Strategy
There are several factors you'll need to be successful as a scalper.
1: Large Capital

It's hard to work with $100 account scalping. The profits are too small. The spread and commissions will finish your account. At the very least, get a $1000 account. $2000 and more is better. You'll be opening several trades a day, therefore, get yourself a sizable amount.

2: Precision And Fast Speed.

Scalping isn't easy. You must be focused and have high concentration skills because you might lose a good entry price due to your slowness. There's no way you'll make money scalping without focus and speed.

3: Technical know-how.

Mostly, the day trading scalping strategies use technical indicators. It helps to know technical analysis and how the indicators work. You won't need this if you're a news trader though. But it helps.

4: Discipline

Most of the time your discipline will be tested. You'll find setups that don't meet your parameters. Or you'll be tempted to overtrade just so you can make money to recoup what you've lost. Or other factors forcing you to compromise. To be successful you must be disciplined.
You must know when to compromise and when not to. Know what you can and absolutely can't do.

5: Find a good broker

Find a broker that has friendly regulations to scalping. Low spreads and commissions are one of the main things to focus on. You'll be opening several trades a day and transaction costs can easily pile up. Also, look at the minimum required by brokers.

Some brokers will say a minimum of 3 pips for your trade to be considered as complete. Others have no such regulation. So take time to study and test your broker. You could even try on a demo before trading a real account with them.


Know The 1 Minute Scalping Strategy Is Not Easy
Scalping in and of itself is not easy. But scalping on a minute 1 will be hard.

The 1-minute forex strategy demands focus and speed. It will even drain you considering you'll be sitting in front of the screen all day. To make it easy for yourself, focus on the London and NY sessions.

Especially the overlap between 8.00Am and 12.00PM EST as volatility is quite high that time. And broker spreads are low.

If you're completely inexperienced, first familiarize yourself with the larger time frames first. You'll have a good shot at being a scalper if you've been profitable on the larger time frames.